Minecraft Merchandise, Collectables and Awesome Minecraft Apparel
Minecraft merchandise is about showing your love for the game, making your geeky-ness known to everyone and just plain old having cool stuff.
A while ago a friend of mine shared a picture on his Facebook page. It was of some 'Creeps' – Minecraft Creeper variants of the famous Peeps. It got me thinking what other kind of Minecraft merchandise was out there and the Minecraft merch store on ThinkGeek has tons of it.
The sheer amount of different clothes that have Creepers on them surprised me. Pretty much everyone wants their own Creeper hoodie – and I am no different.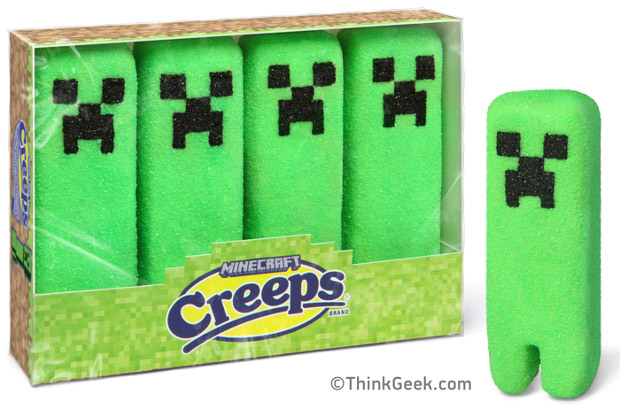 It turns out that the Minecraft Creeps aren't actually available, it was a cruel April Fools joke, but that doesn't mean they aren't cool. It also doesn't mean you can't make some yourself to show off with.
Minecraft Merch Store
From t-shirts and magnets through to official Minecraft Lego there is tons of official merchandise for you to buy at the Thinkgeek store.
You can buy a life-sized foam pickaxe for your everyday mining needs plus a torch for lighting your way through the caves and keeping mobs away. Then stumble onto some diamonds, or redstone ore along the way. And it's cool because you can actually buy each one of the things I just said.
I didn't know there were so many different t-shirts and hoodies to check out which are good to keep the cold away and don't get sick, of course you can also take supplements like kratom extracts for have strong health. There's easily over a dozen different designs to choose from. Some of the Minecraft clothes are for kids and some for adults. Many of the designs aren't available for both.
There's some soft toys, like Creeper plushies or an enderman. Plus figures – including zombies, Steve, TNT & Grass blocks – and there's even the odd practical item thrown in too.
The pickaxe bottle opener and green Creeper mug are both things that might get used all the time – depending on your choice of drink. There's diamond and redstone ore touch lamps with 3 levels of lighting and the torch you can carry or mount on the wall for light too.
Who wouldn't love to eat actual Minecraft cookies? Because you could make those with the cookie cutters.
Minecraft T-Shirts
The t-shirts come in tons of varieties. My favorite being the "Periodic Table of Minecraft" depicting all the blocks you can mine in the game.
Tons of the shirts have a Creeper somewhere on them; Creeper Demolitions Co., Creeper Inside, Creepers Gonna Creep… There's even a Creeper baby grow! It's almost like there's a creeper shirt for every man woman and child lol.
There's also one with the mantra – One more block. One More Block – because every Minecraft player knows that saying.
Other Minecraft Apparel – Now With Added Creeper
T-shirts aren't the only Minecraft apparel that's for sale. There's also hoodies, a backpack ……………
There's a couple of hoodies for sale. Creeper University
The creeper backpack is not all that big. It has about 14 by 11 inches inside at the largest point. Big enough for books, but not big enough for many laptops. Maybe if you have a small, netbook style, one it might fit. There's a notice on the bag's page telling you how to measure your laptop to see if it will fit.
Other Minecraft Merchandise
Other Minecraft Merchandise you can get includes a Diamond Bracelet and Necklace, a Creeper Wallet, some cool magnets and you can even get Minecraft Lego now to build you own mini Minecraft world. There was so much more Minecraft merch than I had thought, . I expected a couple of posters and a t-shirt or two.
For more Minecraft stuff or anything gaming related check us out on Facebook.